PERINATAL PSYCHOLOGY SERVICE – PREGNANCY, BIRTH AND PARENTING
Pregnancy, birth and the multiple transitions of new parenthood are momentous events. They can be both intensely joyful and incredibly challenging, often at the same time. I have a special interest in perinatal mental health and wellbeing, and believe passionately in the importance and value of providing emotional and informational support to women and their families at this time of change. My focus is on the period from conception through to baby's first birthday. I am able to support you with many aspects of this journey, including:
•    Pregnancy and pregnancy loss
•    Birth trauma
•    Discussing or debriefing a previous birth
•    Preparation for birth
•    Emotional impact of infertility
•    Exercising your choice and autonomy in maternity care services
•    Pre- and postnatal depression/anxiety
•    Preparing couples to become parents: expectations, relationships, self-esteem and communication
•    Relationship-focused preparation for parenthood using the Becoming Us ™model
•    Adjusting to parenthood
•    Parent-infant relationship/attachment difficulties  
The nature of this work means that it is often helpful to see mothers/mothers-to-be and their partners together, but of course I also work with individuals seeking support for these issues. If the concern is around the relationship or attachment to an infant, then I offer family sessions for one or both parents with the infant. I use a model called 'Watch, Wait and Wonder' to work with parent-infant relationships. This approach focuses attention on the child's spontaneous activity and play in order to enhance the attachment relationship between the parent and child, and to encourage reflection on the child's inner world and the parent's responses to him/her (see www.watchwaitandwonder.com for more details).  
GROUPS AND COURSES
I run a six-week postnatal course for women at any stage in their journey through motherhood. 'Nurturing Mothers' has a focus on fostering self-compassion, self-care, and attending to your emotional needs as a mother in order to build resilience. My colleague, Dr Guinevere Webster, and I keep these groups small so as to foster a safe space and a strong sense of connection and community.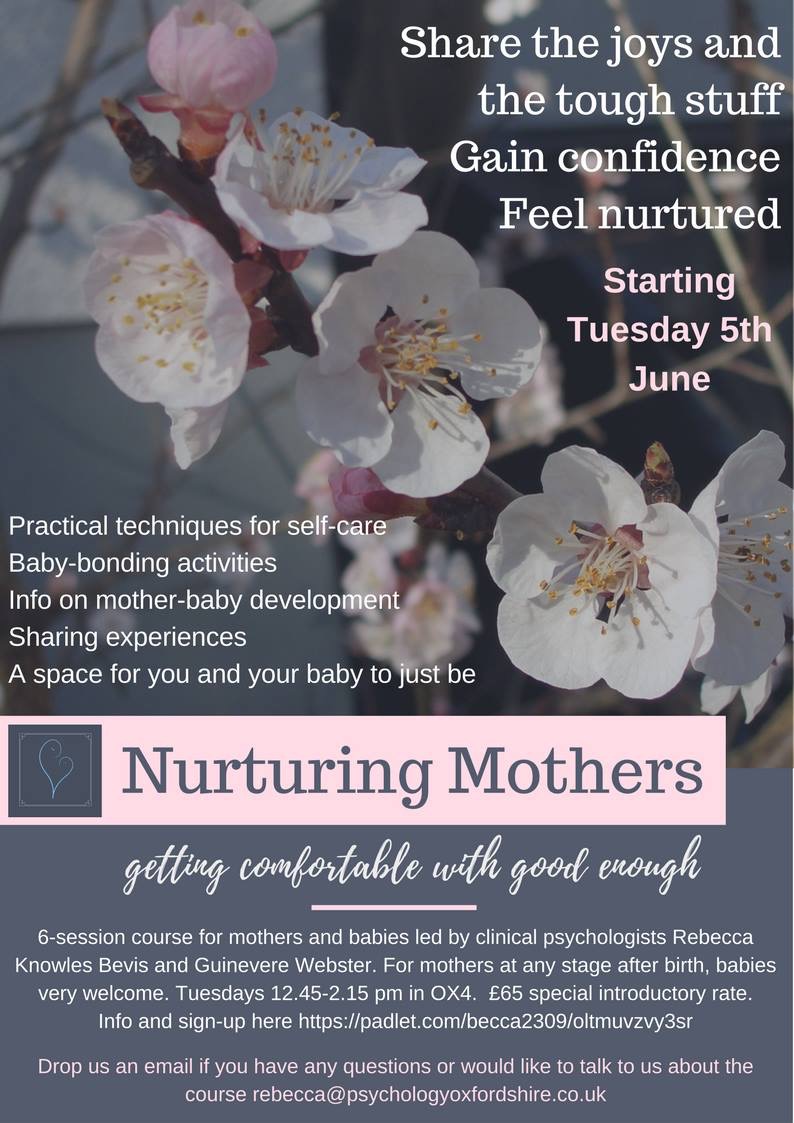 So that I can maintain the highest quality and standards, I undertake regular clinical supervision, continuing professional development and training. I adhere to the professional codes of ethics and conduct set out by the British Psychological Society and Health and Care Professions Council. I am registered with the Information Commissioner's Office (ICO), and my practice is fully compliant with GDPR legislation.